Presentations
For HIV self-testing presentations, publications, policy and regulatory documents, technical documents and reports, see the Resource Directory of HIVST.org, the online centre for public health research, documentation and policies regarding HIV self-testing.
HIVST.org also has an interactive Evidence Map, which includes details on evidence collected to date on HIV self-testing, and links to reports where these are available. This currently includes two research studies in Zimbabwe and five in Malawi.
The following report and presentations relate to the STAR project: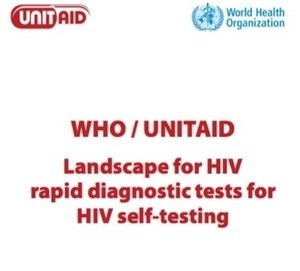 Landscape for HIV rapid diagnostic tests for HIV self-testing
WHO / UNITAID, 2015.
"This report presents the potential for HIV self-testing to contribute to achieving global 90–90–90 targets for treatment access by 2020, provides projections of the demand for and supply of HIV rapid diagnostic tests (RDTs) for self-testing and summarizes the emerging market landscape for self-testing. This information will likely be useful for manufacturers, donors, national programmes, researchers and many other global health stakeholders who are exploring the potential role of HIV self-testing."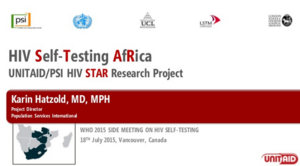 HIV Self-Testing AfRica UNITAID/PSI HIV STAR Research Project
Presented by Karin Hatzold at a WHO HIVST side meeting, July 20 2015.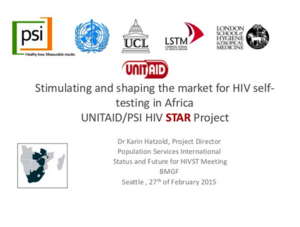 Stimulating and shaping the market for HIV self‐testing in Africa UNITAID/PSI HIV STAR Project
Presented by Dr Karin Hatzold at the Bill and Melinda Gates Foundation, Februrary 2015.