STAR events
Upcoming events
STAR at ICASA 2017
STAR will be holding a satellite session, "Translating HIV Self-Testing Innovation Into National Policy and Scale-Up", on Thursday 7th December from 18:30 to 20:30. The session will review WHO guidance and new evidence emerging from the STAR Initiative. Research updates and case studies from four African countries will explore how HIV self-­testing (HIVST) evidence has been effectively translated into policy and the integration of HIVST into national HIV testing programmes.
STAR Researcher Meeting
This meeting, run by LSHTM, will be held on 5th and 6th December 2017 in London, the objectives of which will be provided shortly.

"In Our Hands" film screening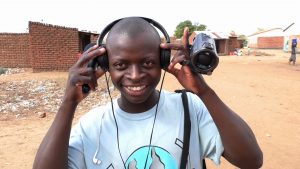 (c) Lovemore Kukadah

In Our Hands is a community-led documentary funded by Wellcome Trust. It is a collaboration between Global Health Film initiative, Liverpool School of Tropical Medicine (LSTM), Malawi-Liverpool-Wellcome Research Programme (MLW) and WHO, and produced by Millie Harvey. Villagers in rural Malawi were empowered to tell their stories of HIV self-testing, using participatory film-making. This has resulted in a powerful public engagement film (see poster and synopsis), which will be shown in eight different locations on and around World AIDS Day 2017:
7th November in Geneva, by WHO and Le Groupe Side Geneve (in French)
12th to 13th November in Neno, Malawi
18th November in Machinga, Malawi
1st December in Blantyre, Malawi at the Malawi-Liverpool Wellcome Trust (from 17:30 in the College of Medicine's Sports Complex)
4th to 9th December in Abidjan, Cote d'Ivoire for ICASA (at Sofitel Abidjan Hotel Ivoire; in French)
5th December in London at LSHTM (from 17:30 in the John Snow A auditorium, followed by a panel discussion and 19:00 drinks reception)
8th December in London as part of Global Health Film Festival (from 18:00 at the Barbican).
---
Key past events from 2017
In addition to regular meetings of STAR's partners and researchers, Qualitative Research Network, Economics Network and Quantitative and Epidemiology Network, the following events have been held.
STAR at IAS 2017

UNITAID, PSI, WHO and LSHTM hosted a satellite session at IAS to share key findings from phase 1 of the STAR project and plans for phase 2, on Sunday 23rd July from 5:00 to 7:00 pm.
For a summary of all HIV self-testing sessions and presentations see the IAS HIV Self-Testing Roadmap produced by STAR.
29 – 30 March 2017: HIV Self-Testing Workshop, Nairobi
STAR hosted at the Boma Hotel an HIVST workshop, the purpose of which was to bring together key stakeholders, to catalyse and inform new programming and evidence-based implementation and scale-up as well as to disseminate the latest WHO HIVST guidance in Africa. The workshop focused on sharing the latest evidence and lessons learned on HIVST and skills building among key leaders from ministries of health, civil society, regulators and implementers who are working towards introducing and scaling-up HIVST.
The HIVST Workshop agenda can be downloaded by clicking here and presentations are available below:
Introduction (Dr Karin Hatzold)
Keynote address (Dr Nduku Kilonzo)
Panel 1 – Getting started at national level: Strategy, planning and oversight (Dr Rachel Baggaley; Dr Lot Nyirenda)
Panel 2 – Optimising accuracy of HIV self-tests (Mr Moses Kumwenda; Dr Euphemia Sibanda; Dr Alwyn Mwinga; Dr Elliot Cowan)
Panel 3 – HIVST distribution models, service delivery and linkage (Mr Richard Chilongosi; Ms Miriam Mutseta; Ms Mutinta Nalumbaba; Mr Mohammad Majam)
Panel 4 – Self-testing scale up and health systems: Integrating HIVST distribution into existing community health platforms and public sector HTS services (Mr Matt Greenall; Prof Kawango Agot; Dr Wanjiru Mukoma; Ms Sharmin Sharif)
Panel 5 – Moving HIVST from research to policy and practice: A policy maker's perspective (Questions for policy makers)
Panel 6 – Research methods for scale-up (Dr Melissa Neuman; Dr Bernadette Henson; Dr Fern Terris-Prestholt)