HIV STAR research studies in Zimbabwe
By Mary Tumushime, Research Coordinator at CeSHHAR
Population based survey
Equipped with lessons learned from the pilot study in Mazowe, HIV self-test kits are now being distributed more widely in selected rural communities in Zimbabwe. As before, a population-based household survey timed six weeks after programme implementation is ongoing and will move from district to district following the programme's cycle. To date, the survey team has conducted data collection in Mberengwa, the first of the eight programme districts. Using Audio Computer Assisted Self Interview (ACASI) on computer tablets, data is being collected to determine the uptake of HIV self-testing and post-test services, clients' experiences of self-testing and previous testing, as well as other key questions. Additionally, preference work on linkage to care after self-testing has also been done among nearly 500 survey participants, using pictorial discrete choice experiment (DCE) questionnaires. Having had to travel some difficult terrain and endure extreme heat, the team will have a change of pace as they head to Buhera district shortly, just ahead of the rainy season!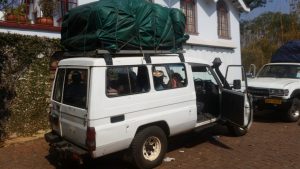 Kicking off the household survey on uptake of self-testing and post-test services in rural Zimbabwe
Qualitative research
What barriers or facilitators do clients face in linking to HIV treatment or prevention services? Now that three months have passed since distribution in Mberengwa, our Social Science team will explore these issues via in-depth interviews with clients who have self-tested, healthcare workers and community-based distributors (CBDs). Stay tuned for updates!
Sex worker distribution programme
What methods of HIV testing do female sex workers in Zimbabwe prefer? Leading on from formative research on accuracy, uptake and acceptability of self-testing, we are expanding the offer of self-testing alongside provider-delivered testing from the Sisters Clinic in Harare to five other sex worker-friendly clinics in Zimbabwe. Clients opting for self-testing will have the chance to test on- or off-site. Telephone follow-ups of off-site testers are being done two weeks after kit collection, to determine whether and when they test themselves and link to care.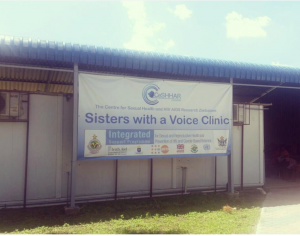 Self-testing is now being offered at this sex worker facility in Harare. Clinics in Bulawayo, Gweru, Karoi, Masvingo, Mutare to follow