Much Ado About Data! Feedback from the Quantitative & Epidemiology Network
By Mary Tumushime, Research Coordinator at CeSHHAR
Our first STAR Quantitative and Epidemiology Network (QERN) data analysis meeting for the year took place in chilly London early in February. We were an intimate group of ten attendees from the three STAR countries plus the LSHTM team. It was literally a walk in the park (Russell Square garden park) to get to the CILIP building, where we would spend two meeting days before dispersing – it's always a pleasure meeting face-to-face!
Interestingly and perhaps not surprisingly, common themes emerged from the country presentations shared on the first day. These included difficulty recruiting male and younger participants, and surveys with multiple heads of household despite the fact that only one was expected. We brainstormed possible ways of systematically handling such responses, including reinforcing training of survey teams to ensure that household level questions are answered once per household. We also discussed developing shared standard operating plans to facilitate data analysis and the need to share statistical programming files for adaptation by country teams. All agreed these would be useful to have.
What I particularly enjoyed about the meeting was the practical, group work session on baseline data analysis and presentations to the larger group. We delved deep into our data as country teams, equipped with STATA 14 for real-time analyses. This was a meeting highlight that needs to be repeated, possibly with more time carved out in the next meeting's agenda.
Analyses aside, we all went out on Thursday evening for dinner at an Italian-French restaurant hand-picked by Melissa. We had a lovely time interacting socially and unanimously agreed that we should definitely replicate this at our subsequent meetings!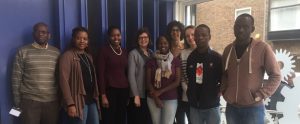 February QERN meeting attendees (L-R: Jeffrey Dirawo, Lucheka Sigande, Euphemia Sibanda, Melissa Neuman, Mary Tumushime, Helen Weiss, Eveline Otte im Kampe, Davie Chalira, Blessings Chisunkha)
Two months on:
We have continued our discussions from the meeting via Skype, with one cross-county Skype call thus far. In March, we were fortunate to have Melissa visit Zimbabwe to discuss the household survey analysis plan, strategies for data cleaning and issues related to programme data at large. We brainstormed about interesting sub-group analyses we can conduct with the survey data, including gender, social economic status and religion (one particular religious group in Zimbabwe has vastly different health seeking behaviours to others).
I look forward to our next meeting (31st May to 2nd June) in Harare, Zimbabwe, where we will develop analyses for the IAS symposium (Bonjour Paris!) and for research publications, share and discuss trial analysis plans and much more. As agreed in our meeting, additional in-country team members will be invited and we will have the chance for more hands-on data analysis, a highlight of our London meeting.