HIV STAR clinical performance study: Can HIV self-tests be used effectively in rural Zambia?
April 2016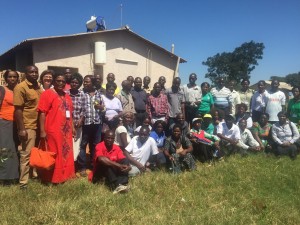 The HIV STAR Zambia team and community leaders from Kanakantapa after meeting to discuss the HIV STAR clinical performance study.
Can oral fluid tests for HIV be used effectively and read correctly across diverse populations in sub-Saharan Africa? The HIV STAR project will compare the results of oral fluid tests with a laboratory-based blood test to determine the accuracy of the test when used by urban and rural Zambians. In April 2016, I travelled with Kezia Kapaku, study coordinator for the HIV STAR clinical performance study, and many Zambart colleagues to one of the locations where we will be assessing the accuracy of HIV self-tests: rural Kanakantapa, in Chongwe district, Zambia. There, we met with community leaders and health care providers at the Rural Health Centre. Kezia described the HIV STAR project and the clinical performance study, and took questions about adolescent testing in the project and how the study team would address unintended consequences, including forced testing or difficulties accepting a positive HIV test.
Next, Kezia and the team will travel to M'tendere, near Lusaka, which is the other location for the HIV STAR clinical performance study. Fieldwork for this part of the HIV STAR project is expected to begin in May 2016, with final results published in mid-2017.