STAR-M Embarks on Refresher Training For CBDAs
By Davie Chalira (Assistant Data Manager, MLW) and Lovemore Magombo (M & E Officer, PSI Malawi)
As part of ensuring continued quality data collection processes for the remaining quarter of the year long duration STAR study PSI-Malawi, in collaboration with its local research implementing partner, the Malawi-Liverpool Wellcome Trust (MLW), has embarked on conducting refresher trainings for the Community Based Distribution Agent (CBDA).
The CBDAs have been distributing self-testing kits and collecting data from participants since September 2016 in eleven main survey intervention clusters in Blantyre, Mwanza, Machinga and Neno districts, located in the Southern part of Malawi.
The trainings, which have also been scheduled to be conducted across the eleven intervention clusters, started with three days of meetings from 14th June to 16th June 2017 in blocks of two sessions with the CBDAs from Machinga, which has three intervention clusters of Chikwewo, Namanja and Mangamba.
The main areas of the training focussed on enhancing CBDAs' skills in the interviewing process including building a good rapport with the participants during the distribution process and ensuring confidentiality of the participants. The training also covered the effective administering of the self-completed questionnaire, which records the result of testing as well as guiding participants who test positive to facilities for ART therapy using referral cards. This supplements one of the STAR secondary research outcomes of evaluating ART clinic records to investigate whether or not population-level demand for ART has increased.
Speaking at the meetings, which took place at St Mary's Catholic Parish Hall in Mtanja, Patrick Chibota, one of the trainers (who is also a CBDA supervisor in Machinga), said such trainings were vital in ensuring that there is continued quality in the data being collected for the remaining three months of the initial phase, which is expected to end this year in August.
He also welcomed the idea to have the MLW team join in the training as this would help both teams working in the implementation and research arm to be on the same page with regard to enhancing progress and tackling challenges that may arise from data collected from the kits distribution process.
Meanwhile the trainers have also just completed conducting trainings for CBDAs in Blantyre, and the next refresher trainings are scheduled for Mwanza and Neno in a few weeks to come.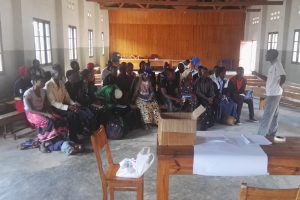 Chibota training CBDAs at Ntaja in Machinga