Communications light-bulbs from HIV self-testing transcripts
By Varaidzo C. Mabhunu-Maniwa, Marketing Manager at PSI/Zimbabwe
March 2017
As communications experts, well, as far as we are concerned anyway, we have a natural tendency to look at a health problem or situation and be quite quick to prescribe a solution. For example, HIV self-testing (HIVST) is upon us, a cutting-edge intervention that will allow the key populations in Zimbabwe, and the world at large, who do not know their status to do so. Not only knowing their status, but doing so in the comfort of their homes, in their private space, quickly and easily and so on and so on.
My first thought as a marketer would probably be: 'Let me design some material that tells them all about how wonderful this intervention is.' What more would the target audience want?.…Well….quite a bit more!
Recorded and transcribed interviews are one way marketers can understand the thought processes and emotions that lead to certain behaviours among our target audience, and from understanding these thought processes we can better align our communication campaigns and materials to achieve the desired goals.
Without delving deep into the mind of our archetypes, we may well design beautiful to look at campaigns and captivating materials, but still have a chunk of the targeted population who do not take up the promoted intervention. For now, the novelty of HIVST is still high, but let us not forget that the innovators and early adopters are most probably who we reaching now. Time will tell, but the slope is likely to get steeper as we intensify efforts to get the non-testers to test. It is at this point that we will need to do things differently, and that begins with collaborating with social scientists and health behaviour experts.
 Switching the light on at the Qualitative Research Network
It was during an assignment at STAR's Qualitative Research Network (QRN) meeting in Liverpool in February 2017 that a small light-bulb went off in my head. After a presentation on quality of transcripts, we were tasked to go and analyse a few summarised transcripts from the different countries. While reading those transcripts, I started to feel a new connection with our HIVST target audience and realised that going through the actual transcripts from data collection gives marketers a deeper sense of what is going on in the mind of the target audience. This will serve as a basis for development of communications materials or tools which address the intricate barriers that may prevent the target audience from accessing services, HIVST in this instance.
Taking more time to get in touch with the target audience, through analysing the data transcripts, field work participation and other emerging approaches including Human Centred Design (HCD) techniques, as communication experts we can indeed improve the quality of our outputs and meet the expectations of the target audience more effectively. As we move into the scale up phase of HIVST, it will be exciting to put this into action and I will be sharing the communication materials as they are developed. Watch this space for more 🙂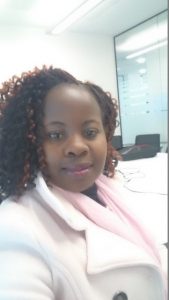 A selfie moment during the QRN writing session